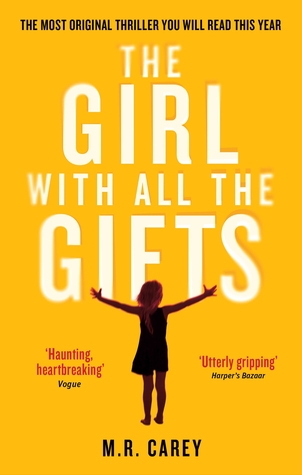 Título: The Girl With All The Gifts
Autor: M. R. Carey
Editora: Orbit
ISBN: 9780356500157
Páginas: 460
Sinopse: Melanie is a very special girl. Dr. Caldwell calls her "our little genius." Every morning, Melanie waits in her cell to be collected for class. When they come for her, Sergeant Parks keeps his gun pointing at her while two of his people strap her into the wheelchair. She thinks they don't like her. She jokes that she won't bite, but they don't laugh. Melanie loves school. She loves learning about spelling and sums and the world outside the classroom and the children's cells. She tells her favorite teacher all the things she'll do when she grows up. Melanie doesn't know why this makes Miss Justineau look sad.
Título
: The Girl With The Dragon Tattoo (Millennium #1)
Autor: Stieg Larsson
Editora: Quercus
ISBN: 9780857054104
Páginas: 544
Sinopse: Lisbeth Salander gets under the skin of her targets like no-one else. Those who underestimate her live to regret it. If they are lucky.... Mikael Blomkvist-disgraced journalist, womanizer-is everything she ought to hate. But when she is hired by a security firm to investigate him, her report on his life reveals an integrity that fascinates her. Then she discovers that Blomkvist, himself a brilliant investigator, is cracking open the cold case of a missing girl-uncovering secrets that have poisoned a family through generations. And only one thing gives Salander greater satisfaction than exposing a liar:stopping a killer.
Título: The Girl Who Played With Fire (Millennium #2)
Autor: Stieg Larsson
Editora: Quercus
ISBN: 9780857054043
Páginas: 576
Sinopse: Lisbeth Salander is a wanted woman. Two Millennium journalists about to expose the truth about sex trafficking in Sweden are murdered, and Salander's prints are on the weapon. Her history of unpredictable and vengeful behaviour makes her an official danger to society – but no-one can find her. Mikael Blomkvist, Millennium magazine's legendary star reporter, does not believe the police. Using all his magazine staff and resources to prove Salander's innocence, Blomkvist also uncovers her terrible past, spent in criminally corrupt institutions. Yet Salander is more avenging angel than helpless victim. She may be an expert at staying out of sight – but she has ways of tracking down her most elusive enemies.
Título: The Girl Who Kicked The Hornet's Nest (Millennium #3)
Autor: Stieg Larsson
Editora: Quercus
ISBN: 9780857054111
Páginas: 720
Sinopse: Salander is plotting her revenge - against the man who tried to kill her, and against the government institutions that very nearly destroyed her life. But it is not going to be a straightforward campaign. After taking a bullet to the head, Salander is under close supervision in Intensive Care, and is set to face trial for three murders and one attempted murder on her eventual release. With the help of journalist Mikael Blomkvist and his researchers at Millennium magazine, Salander must not only prove her innocence, but identify and denounce the corrupt politicians that have allowed the vulnerable to become victims of abuse and violence. Once a victim herself, Salander is now ready to fight back.